Amberian has had a major role in the success of the Michigan Department of Labor & Economic Growth (DLEG) Electronic Labor Exchange system (www.michworks.org, which has since been moved to Pure Michigan Talent Connect), which enables employers and job seekers to 'meet' each other on the Internet via job order and resume posting and matches. A few years ago, this was among the first state sites to provide such comprehensive set of free services in this market. Since then, it has grown to serve hundreds of thousands of job seekers and thousands of employers in the State of Michigan and nationwide.
In October 2005, Amberian Corporation was the vendor recognized for assisting the State of Michigan with the development of the Michigan Talent Bank, which received the 2005 First Prize award in the category of Digital Government: Government to Citizen at the annual National Association Conference of State Chief Information Officers (NASCIO) in San Diego, California. You can read the full story here.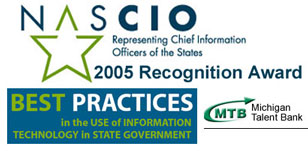 Additionally, Amberian is the vendor behind the development and deployment of Michigan's Intranet-based "One-Stop" Operating System that provides IT infrastructure for managing Federal and State programs such as Welfare Reform and Workforce Investment Act (WIA) (services.michworks.org). This system involved transforming a number of heterogeneous legacy database systems into an Internet-based, secure, centralized application, which proved to be beneficial by improving customer service and reducing costs. It serves thousands of State employees and it interfaces with a number of outside partners and agencies.
Additionally, Amberian is the vendor behind the development of Michigan's Adult Education Online and Reporting system which tracks adult student enrollments, assessments and educational outcomes.
Amberian worked with Clickguide Inc. to provide IT consulting services for a large scale J2EE system. The undertaking involved linking Affiliates, Distributors and End Consumers in a way that revolutionizes the Internet browsing experience.
Amberian Corporation provided extensive GIS/GPS training to World Health Organization personnel in Tirana, Albania. Using experienced on-site consultants in the areas of GIS/GPS technology as well as Sociology and Demographics, and overcoming serious difficulties due to the lack of quality digitized maps for the country, Amberian trained WHO personnel on how to create an immunological GIS/GPS-based system that allows for the easy tracking and reporting of disease occurrence and spreading at the commune-level in Albania. Furthermore, the system tied health to broader sociological and demographic data, resulting in an innovative marriage of technologies and knowledge domains.
Amberian was contracted to provide architectural and design services to Innovative IT Solutions (IITS), one of the leaders in the production and marketing of software used by insurance carriers and brokers/dealers to manage their producer licensing functions. Amberian's role was that of architecting the Web-enabling of one of IITS's main products, SIRCON.db.
Amberian's founder participated in building one of the first medical Web sites on the Internet which offered "centralized E-mail address, Specialty Discussion Groups, and Medical Links and News, all designed to assist the Internet newcomer as well as the veteran".
Amberian's founder participated in the building of the first commercial Automatic Vehicle Location system. The product combined wireless data communications and live digital mapping software to manage fleets of vehicles.